I love the Summer time so much.
I love not having a schedule and taking as much time as we want to be outside and enjoy lazy afternoons together.
I love taking nature walks or bike rides with the kids, especially in the early evening, when the sun is just starting to go down and you get that light evening breeze.
I love fresh fruits and veggies from the Farmers Market.
I love Summer Salads.
I love having a shelf in the freezer dedicated to Popsicles.
I love that the kids don't have homework!
I love Summer.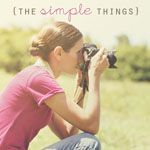 linking up