The bright Blue mornings this week have been breath taking! This morning I grabbed my camera and went into the back yard to snap a few pictures of the sky. Blue is my favorite color and I love starting the day, especially Sundays with gorgeous skies like these.
This little guy was all ready for church and while he waited to go he was playing with an eye ball and a squishy. All boy I tell you!
This is typically how the girls spend the majority of the weekend. Playing dolls, barbies, animal hospital. They will play for hours and hours. I love listening to their pretend play. It seriously melts my heart.
Speaking of heart, this morning while I was getting ready for church, listening to Sunday music, hearing the kids laughter, looking over at my husband dressed in his suit, I had one of those love moments.
The kind that takes your breath away and leaves you with a tear in your eye. The kind that makes your heart almost hurt because it feels like it could burst. The kind that makes you feel so much joy because of the love you feel.
That kind of love moment.
It really is the simple things that can bring those kind of overwhelming moments of love.
So grateful for those simple things that make life so sweet and so full of love.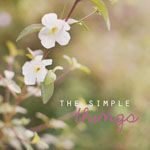 linking up with Rebecca for
{Simple things Sunday}