This is my second week of joining the "What I wore Wednesday" Challenge started by Lindsey over at the Pleated Poppy. She started this WIWW to help us get out of our pj's and put more effort into ourselves each day. I have to say it has been really helpful. I was finding myself in my sweats more and more, so this has been a great challenge and a lot of fun (and a little embarrassing, I must say, I am still trying to feel comfortable in front of the camera vs. behind where I usually am).
So without further ado, WIWW....
First off, a little afternoon at the beach with Ella. We went shopping on main street, walked the pier, enjoyed the gorgeous Southern California weather and had a little lunch. It was a fun mommy/daughter date.
I love Seal Beach.
Miss Ella Bella in her skinny jeans and new O'Neil shirt and cozy boots
Pump It up Birthday Party (always a treat to chat and catch up with with good friends)
jeans: forever 21, Top: O'neil, shoes: Sears ($7 clearance)
After the photo shoot I picked up Katie and we spend the day at the ability expo at the aquarium.
After the expo, we hurried home, changed and got ready for a baptism at church for one of our good friends. After we got some frozen yogurt with the kids. dress: old Navy, sweater: Target
On Sunday Bryant and I were asked to speak to the young adults at church (age 18-29) about Dating. My sister is in that group with a lot of her friends, so it ended up being really fun. We shared our story, shared how important dating is, fun date ideas and opened it up for a discussion. This is our third time giving our little talk. Bryant keeps questioning how in the world he gets himself in these speaking situations, but in the end, it is always a really fun and neat experience. above: Bryant and I on our way out and Sandy (my sister) and I at church.
Monday, I wanted to wear my PJ's, but hurried and got into this outfit. Nothing special, but not PJ's!
Black Jeans: Target, Top: ?, Ruffled Necklace and shoes: local boutique
above: Carter giving me some loves before I left.
"Penelope Lane Parties in a Box!"
(see example
here
) Like a trunk show! Where you can host an LPL party
where ever you live
(in the USA) and earn free hair accessories (10% of the party, ex: if the party earns $500, you get $50 worth of hair accessories)!!
I have gals that are on their FIFTH Penelope Lane party because they have so much fun hosting them, their friends enjoy the party and they love getting hair accessories for free!
If you are interested in hosting a party or would like more information, email me littlepenelopelane@hotmail.com
I have enjoyed doing WIWW for the past two weeks and I have enjoyed getting to know so many more bloggers recently. It has been so much fun!
Now, off to get out of my PJ's and meet a friend for lunch!
XO,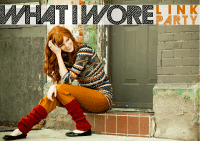 the letter 4
and
momma go round